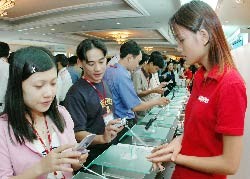 With Lucent's help, the EVN expects to meet the demand of phone subscription in Viet Nam.
The US telecom corporation Lucent Technologies (LU) opens its representative office in Ha Noi on March 9, aiming at cooperating with local companies to improve Viet Nam's telecom industry.
Lucent is now working with the Electricity of Viet Nam (EVN)'s Telecom Company to rebuild its infrastructure to meet the increasing demand of phone subscription in Viet Nam.
EVN Telecom chose Lucent to develop its CDMA450 with CDMA2000 1X technology for a 450 MHz band in June, 2005. Accordingly, the corporation has provided EVN Telecom with equipments and services to help it cover almost all of the northern provinces of Viet Nam.
The corporation, which achieved a US$9.44 billion turnover in 2005, is currently one of the world's leading network solutions providers. Lucent Technologies designs and delivers the systems, services and software that drive next-generation communications networks and it has installed over 140,000 telecommunication stations worldwide and developed CDMA networks including CDMA2000, CDMA450 and W-CDMA/UMTS for 35 clients in America, Asia, Europe and Australia-New Zealand.
Related links: