Managers of the Department of Science and Technology in the southern province of Binh Duong yesterday arrived in the house of Nguyen Bui Hien who builds homemade helicopter, to examine and instruct him to register the project to the Ministry of Science and Technology.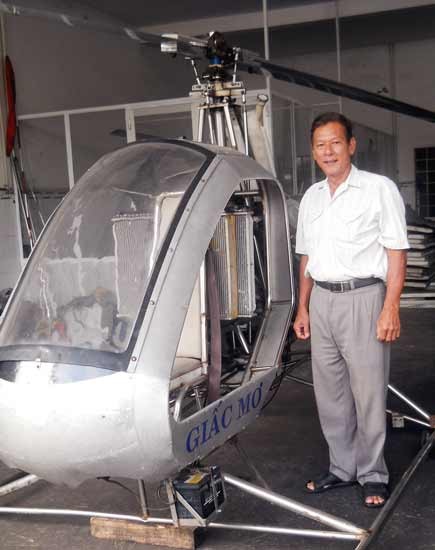 Hien and his homemade plane (photo: SGGP)
Deputy of the Department of Science and Technology in BInh Duong Province Le Tan Cuong said that the building of the helicopter is a self-determined act without properly trained; accordingly, the managers of the Department of Science and Technology told him to associate with the Poly-Technique University in Ho Chi Minh City or a groups of scientists to liaise on design of a completed and safe plane.

Once, Hien cooperates with the above-mentioned university or scientists, he will be allowed to operate the plane.
Hien said that he will import standard equipment from the US  and contact engine providers in the world to buy perfect equipment if the government gives him the green light.
Hien said that his helicopter was able to hover two meters from the ground in 15 minutes yet he will complete his dreamt plane and finish formality for official trial.