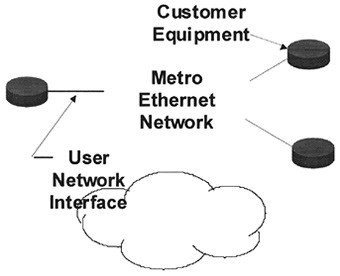 MetroNet diagram
Today, with more and more applications being implemented over the world's communications networks, people tend to favor networks that are fast and reliable with scalable bandwidth in different geographical locations.
Instead of investing in a new network infrastructure to achieve all these requirements, why not take advantage of state-of-the-art MetroNet, which offers real-time incorporation of data-transmission, voice and video communication services due to it ultra wide broadband.
Built on Metropolitan Area Network (MAN), MetroNet's core activity is providing telecommunication services based on its own optic network. Thanks to its cutting-edge technologies incorporated with an optic network, MetroNet offers data-transfer, voice and video communication services, including IP TV, video phone, video conferencing, video on demand, cable TV, distance learning courses, remote supervision and high-speed internet access.
One of the most prominent features of MetroNet is real-time incorporation of those three services due to its 1 Gbps broadband. In addition, users can easily adjust the bandwidth to address their specific demands and needs.
The ultra wide broadband in this regard enables users to download large-size data, pictures, movies in a matter of seconds. MetrNet also offers high-bandwidth connectivity for point-to-point and multi-point-to-multi-point broadband communications.
For instance, a company using MetroNet can establish a Virtual Private Network (VPN) by connecting its local networks with each other (LAN, WAN) or with its partners' networks from various points. It is also provided with high-speed internet access.
Particularly, MetroNet offers subscribers quick hands-on bandwidth adjustment without technical devices or staff, which would take them several days or weeks if they used other protocols like Frame Relay or ATM.
With these edges over other services, MetroNet is expected to live up to the expectations of multinational companies, banks and enterprises in industrial zones, hi-tech parks and software parks.
Especially this state-of-the-art service helps government bodies set up e-government and make administrative reforms, as well as build broadband networks for businesses, financial organizations, universities, etc.
The Ho Chi Minh City Post Office (HPO) is scheduled for MetroNet debut on August 17 at the City Theater. The MetroNet service of the HPO uses standardized communication devices and technologies based on the Metro Ethernet Forum's recommendations. The HPO has already applied MetroNet for setting up the network infrastructure of the city's administrative information system.