The Ministry of Information and Communications on March 6 signed with the Microsoft Corporation a Memorandum of Understanding (MoU) that will help raise Vietnam's Internet security.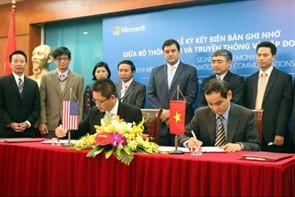 The signing ceremony (Source: VNA)
As stated in the document, the US-based group will help modernise IT facilities of Vietnamese small and medium-sized-enterprises and provide its Cybercrime Centre's monthly reports for the ministry.
The multinational corporation will also support Vietnam to develop cloud computing applications and train local IT workforce.
The same day, Microsoft and the Vietnam Computer Emergency Response Centre (VNCERT) also inked a MoU aimed to enhance cyber security, coordinate computer emergency assistance, and inspect security breaches in the context of rising security loopholes in the country.
According to the top local internet security firm, BKAV, Vietnam remains among the countries most vulnerable to internet attacks, with 40 percent of websites containing security loopholes.
The firm provided the fact based on its research, carried out from October 2013 to February 2014 by its WebScan machines, in more than 25 countries.
Explaining the situation as the main cause of leaking information from personal credit cards, as well as corporate internal data, it urged government agencies and computer users to strengthen internet and website security to reduce potential risks.
According to the Vietnam Computer Emergency Response Team, 78 out of 100 websites with the government domain "gov.vn" had been reported to have "seriously" poor security systems.
Also, BKAV warned last month, spyware, malware and DDoS (distributed denial of service) attacks will continue to pose major risks in 2014.
In 2013, hackers took advantage of security loopholes in Microsoft Word, Excel and Powerpoint and inserted spyware to monitor users' activities on computers