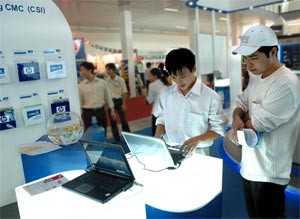 CMC's products on display at a recent informatics and technology fair. (Photo:TK)
Microsoft Corporation will cooperate with Viet Nam's leading computer and communications corporation, CMC, to host an exhibition of its latest office software in Ha Noi and Ho Chi Minh City this March.
A software bundle comprised of the latest programs such as Window Vista, Office 2007 and Exchange will be introduced to the public on March 15 in Ha Noi and the 22 in Ho Chi Minh City.
According to organizers, the program, entitled "Launch of Office Vista Exchange" (LOVE LAUNCH), will be the biggest event in the history of Microsoft in Viet Nam and aims at introducing Vietnamese users to the superior features of Microsoft's products and new technologies. Visitors to the exhibition will also have access to many senior experts from Microsoft and the CMC and will be able to participate in many on-site promotional activities.
Mr. Dang The Tai, General Director of the CMC's southern branch, said "this event marks a turning point in the information technology field in Viet Nam. CMC will spare no efforts to improve its technology and management in accordance with Microsoft's standards.
CMC was recognized as a Golden Partner of the Microsoft Corporation for supplying Information Technology (IT) solutions last March. Aligning themselves with Microsoft has created many opportunities for them to access and share data and other product resources with Microsoft.
After 13 years of operation in Viet Nam, the CMC, with many qualified staff, has become a leader in integrated systems, applied software development and computer production. The company has also strived to scale up its research and development agenda, implementing thousands of IT projects for State agencies as well as domestic and international corporations.