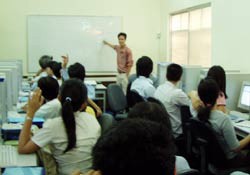 About 50,000 high schools' teachers will be trained in applying IT into teaching and learning
According to Ms. Pham Thanh Huong, Coordinator of Micorsoft's Educational Program in Viet Nam, the Microsoft's Global Educational Fund has started the "Partners in Learning" program to support the training of Information Technology teachers.
About 50,000 high school teachers and students of the Teacher's Universities will be trained in applying Information Technology (IT) into teaching and learning from 2006 to 2010. Two million students will directly benefit from the program.
Microsoft will also provide software programs, upgrade for computers which will be donated to high schools and licenses of Microsoft software with a discount price (US$2.5 per computer) to high schools.