The Ministry of Information and Communications will work with US giants Yahoo and Google to regulate blogs, its deputy minister Do Quy Doan said at a media briefing on December 30.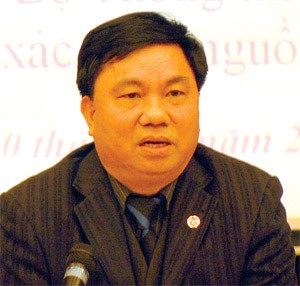 Deputy minister of Information and Communications Do Quy Doan
Circular 07/2008/TT-BTTTT, which will take effect soon, prohibits bloggers from providing or linking to false or illegal information or revealing national secrets.
It also prohibits uploading of pornography and other content that incite sex and violence or advertise illegal goods.
The circular was passed to assist Decree 97/2008/ND-CP that was issued in August on the management, provision, and use of virtual services and electronic information, including blogs.
It is intended to clarify certain provisions of the decree.
It bans Internet users from sharing literature and other materials that breach ministry regulations and posting materials breaching intellectual property rights or e-commerce regulations.
 
The circular highlights the responsibility of bloggers in managing their blogs properly, ensuring all information on their blogs comply with regulations. 
 
Blog hosts are responsible for informing visitors of the regulations and for monitoring blogs, detecting illegal activities, and immediately pulling up users for any breaches. 
The circular encourages the use of blogs as a means of exchanging and sharing information.

Mr. Doan said there are currently over 1.5 million bloggers in Vietnam and 2.2 million blogs in Vietnamese, over 80 percent of them using Yahoo or Google.
 
"I think Yahoo and Google will be willing to cooperate with the ministry…," he said.
 
The ministry cannot monitor all the information posted on such a huge number of blogs, which continues to increase every day, he said, adding that the circular does not aim to penalize violators but to create a legal framework for blog development.
 
The ministry does not think the circular would resolve all the problems related to blogs, he said.
 
But Mr. Doan hoped that through the media and propaganda programs, bloggers would become more aware of what they can post and if their posts comply with the regulations in the circular and decree.
 
The ministry is waiting for the Prime Minister's approval for the penalties it has proposed for violations, he added.