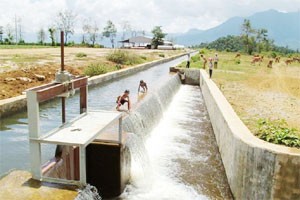 The Hydro-electric power plant Krong Hin (Photo Tien Phong)
Nguyen Quyen, Director of the Mekong Construction Co. Ltd., plans to invest over 200 billion VND (12.5 million USD) to build two more hydro-electric power plants in the Central Highlands province of Dak Nong.
These plants, namely Dak Pri and Dak N'Tao, were designed to have a combined capacity of over 15,000kW. Once operational in 2010, they will supply electricity for the national electricity grid or several central and southern provinces of Laos.
On July 29, the Krong Hin hydro-electric power plant, which was also invested by Quyen, was put into operation in Dak Lak province's M'Drac district.
The plant, which houses two turbines with a capacity of 5,000kW, has an electricity output of 30 million kWh per year.
It was built at a cost of 102 billion VND (nearly 6.4 million USD) and is estimated to bring Quyen between 15-18 billion VND (around 1 million USD) per year from selling electricity to the Electricity of Viet Nam (EVN) Corporation.
Quyen, 66, a graduate from Ha Noi University of Technology, has worked with hydropower projects since 1962. He was director of the State-owned Dak Lak Hydropower and Irrigation Designing Company before retiring in 1993.
Source: VNA