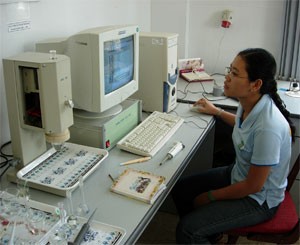 A student studies at a nanotechnology lab in Ho Chi Minh City (Photo: Hoang Uy)
A US$4.3 million nanotechnology laboratory at the Vietnam National University Ho Chi Minh City was inaugurated yesterday in HCMC.
The lab will offer workspace for local and foreign scientists to study Micro-Nanotechnology as well training related to micro/nano components.
The launch of a second master's course on Nanotechnology materials and components also took place.