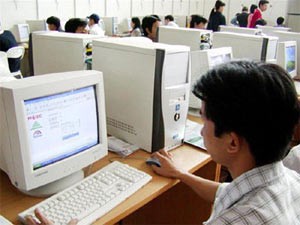 At an IT class.
"National Non-Professional IT Young Talents 2006" contest opened in Nha Trang, Khanh Hoa Province on August 2, attended by 170 students from primary, secondary and high schools of 53 cities and provinces nationwide.
The contest includes two parts: the theoretical test on computer science where students are tested on their knowledge of computers, operation systems and internet and the test of applications and programming.
Particularly, the organizing board encourages individual cretive software, focusing on environmental protection, traffic safety, and the preventiona against pornographic websites.
In addition, the competitors will take part in the Fun Computer Science and meet with Khanh Hoa Province's teenagers. The contest will last to August 5, 2006.