The Prime Minister has approved a program to develop nine items into national key products by 2020 five years ago. However its result has been little because of time consuming implementation and businesses' confusion while attending the program.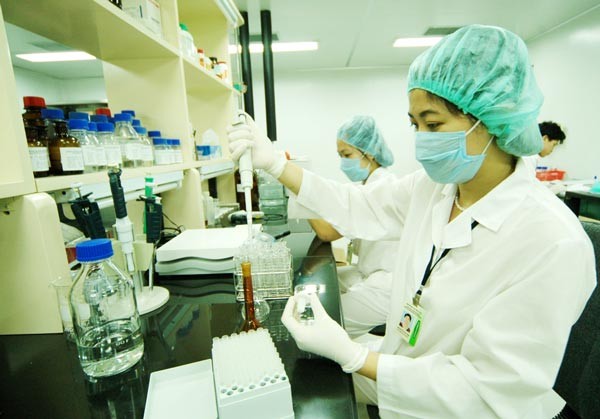 Many kinds of vaccines have been made in Vietnam (Photo: SGGP)
The report has been issued by Minister of Science and Technology Nguyen Quan. The program comprises six official products and three substitutes which are developing in rather large scales, prestige and brand names and yielding considerable revenues from local market and exports.
 
The program focuses on high quality rice, vaccines for human and domestic animals, super sized and super heavy mechanical products, cyber security software, automobile and motorcycle engines and some products serving national defense and security.
Three substitutes are edible and medicinal mushrooms, catfish and electronic circuits.
The program was approved in 2011 but it has been implemented too slowly with meager result.
Explaining this, Mr. Quan said that the process of preparations for the program's implementation had taken too much time and thus capital was just allocated in 2014 and 2015.
Besides, projects under the program have faced difficulties because they require the attendance of many businesses and authorized agencies.
Formerly, most Vietnamese businesses had built their projects as annual plans to wait for the state budget's funding. Hence they have been confused when attending the program.
Connectivity among scientists, producers or businesses and the Government
has been loose and ineffective during the implementation of these projects. 
These problems have slowed down the program. The Science and Technology Law 2013 has created a legal framework and mechanisms for businesses to increase investment in science and technology themselves.
It includes three mechanisms to improve the effectiveness of science and technology activities. First is ordering in which all projects in this field must depart from actual demand of the society and market and be conducted in accordance with orders by businesses or the government.
Second is funding mechanism, the fund for science and technology study and renovation must be allotted timely right after projects are approved.
The third mechanism is to appreciate products of these projects.
The Ministry of Science and Technology has built a plan to carry out the program, hoping that Vietnamese goods will have competitive brand names in the world market by 2020 especially to rice and vaccines.
In 2015 Vietnam attended a lot of free trade agreements so the ministry has issued a national standard system, covering all fields, for businesses to follow in production and trade. The system is in harmony with the world's standards.
In addition, the ministry has synchronously and drastically implemented a number of measures to ensure intellectual property rights, aiming at setting foreign investors' at rest while doing business in Vietnam.
The measures also help Vietnamese businesses register and protect their brand names.