The Ministry of Information and Communications has released a new circular which outlines regulations for personal websites and all information posted on them.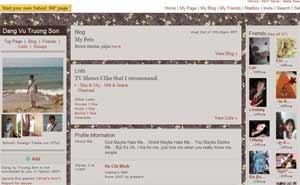 A personal website at Yahoo!360
The new circular defines personal websites - normally called blogs – as internet pages where users post personal information or share information with the internet community.  
The new circular also specifies the prohibitions on personal website, including posting hyperlinks to other websites that contain illegal content, creating a blog to fake information of another person or organization, hacking into and illegally using another's blog and posting misleading information to tarnish the reputation of another individual or organization.  
The circular bans internet users from sharing literature and art material which goes against ministry regulations and posting material that breaches intellectual property rights or e-commerce regulations.  
The circular highlighted the responsibility of bloggers to manage their blogs properly. They must ensure all information on their blogs comply with regulations, the circular said.   
Blog providers are responsible for informing users of the regulations on their websites' main page. The providers also are responsible for monitoring blogs, detecting any illegal actions and immediately adjusting or punishing users for any breaches. 
Related article:
Ministry's blog draft circular is unnecessary, HCMC official says