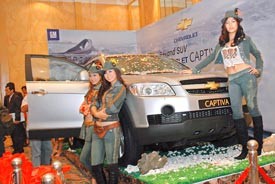 Chevrolet Captiva, new compact SUV of GM, was launched in Viet Nam' market, creating a new competition in the automobile industry of the country. (Photo: T.C)
Thursday, the General Motor's (GM) stylish new Chevrolet Captiva made its debut at the Hanoi Daewoo hotel.
Chevrolet Captiva is a sport utility vehicle (SUV) with the sporty design and comfort of a passenger car. The style has a powerful, best-in-class 2.4 DOHC 16 valve gasoline engine of 136 horsepower and was sold in Europe, North America and Asia Pacific before being officially launched in Viet Nam yesterday.
The new compact SUV is included in GM's global strategy project with its debuts at the Geneva motor show in March 2006 and sales activities across its Europe network from June 2006.
Jung In Kim, General Director of Vidamco (Vietnam – Daewoo Motor Company), said, "Chevrolet Captiva will occupy Viet Nam's market and we expect to sell 800 cars to the end of the year".
Related Articles:
Will Cars Always Be So Expensive in Viet Nam?
Anna Kurnikova Brilliant on the Los Angeles General Motor Show