Automatic Selling Book Machine (ASBM) is a new book vending machine introduced by Young Publishing House.
Two machines will be set up at the 8th Book Festival taken place in Le Van Tam Park and one will be in Young Publishing House at 161B Ly Chinh Thang St, District 3. This will revolutionize customer relationships with book purchases.
Multi-payment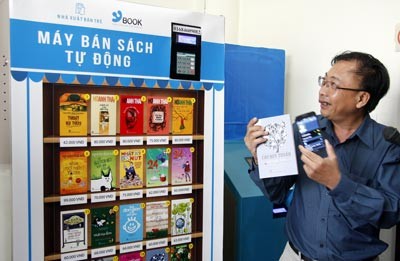 Mr Dong Phuoc Vinh introduces ASBM Photo: SGGP
Each machine will have 250 various books with 25 titles. Mr Dong Phuoc Vinh, Director of Ybook under Young Publishing House says this machine is equipped with three payment options: cards from the publishing house, credit and debit, or cash.
Readers can also pay with a Mobifone account on Ybook website. This account can also be used to buy ebooks, paperback books at Ybook Online Shop, and at ASBM.
Each machine has a simcard and a serial number printed on the machine. Customers can call the machine using their cellphones to purchase books. No charges will be applied for the call.
This will be a great promotion for the publishing house, said Mr Vinh.
If this is successful, we will expand this market, said Nguyen Minh Nhut, Director of Young Publishing House. More machines will be set up throughout the city.
It will also provide foreign tourists with novels to read, said Nhut.