Cyber Century Forum, a non-profit organization based in the US, launched the NextGen Awards in Ha Noi last Wednesday.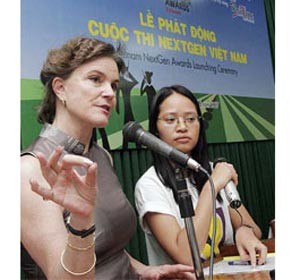 CCF Chairwoman Diana Douga at the inaugural ceremony
The annual competition is for teenagers who can play a leading role in extending the innovative and practical uses of mobile phones to help address critical quality of life concerns such as improving health, expanding education and sustaining the environment.
The 30 semi-finalists will receive US$100 each. From them, the final dozen will receive $500 and have their ideas featured at www.NextGenAwards.org.
Because the contest focuses on encouraging, inspiring and rewarding young talent, all NextGen Stars will be matched with international NextGen Mentors to help them expand on their winning ideas and potential as individuals.
The best four NextGen Stars will achieve "NextGen SuperStar" status and receive an additional $1,000 in project grants.
NextGen Stars and NextGen SuperStars will become members of the NextGen leader network, which offers opportunities to work collaboratively with other NextGen winners around the world.
"NextGen is more than just a contest. It is an opportunity for young Vietnamese people to expand their creative horizons beyond the limits of formal schooling," said CCF chairwoman Diana Douga.
Additionally, the local school or organization designated by each winner as their local Contest Advisor will receive a $200 award and website recognition.
The competition in Viet Nam lasts until July 31. It will also be run in Brazil, the Czech Republic, Ghana, India, Indonesia, Malaysia, Mexico, Morocco, Portugal and South Africa.