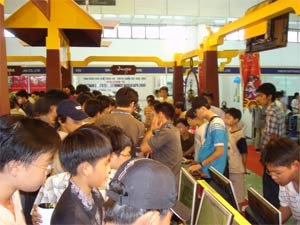 Playing online games at this year's Computer Electronic World Expo in Viet Nam (Photo:H.Uy).
Online game providers in Viet Nam say their market is frozen up. Dozens of them have incurred big losses after paying millions of bucks for games that few people end up playing. Yet still more games are coming to the web.

The Korean online game MU used to be the best massive multiplayer online role-playing game and attracted a critical mass of gamers in Viet Nam.
But its premier position was lost soon after the FPT Corporation bought the game's rights for US$3 million and started charging a playing fee.
As the number of registered MU players nose-dived, FPT had to reduce the number of servers it was using for the game, and now MU has all but vanished from the local scene.
CyberWorld and Quang Minh DEC have pretty well abandoned their respective games - Khan Online and RYL – and are trying their luck with new ones.
They too started charging a playing fee, and lost subscribers in great numbers as a consequence.
Other online games, such as Space Cowboy, PTV and Ragnarok Online, tempted only a few dozen gamers to sign up.
In an attempt to stem the flow of blood, many firms have been offering free games and selling game-related merchandise to attract more custom, but with little if any success.
"It's young people who play online games. Obviously they prefer to play for free, so if someone starts charging they go elsewhere," said the owner of an internet shop.
Yet dozens of firms including the loss-makers keep persevering in the online game market.
For example, VinaGame failed to get far with Ragnarok so now the company is pinning its hopes on Nine Dragons.
What firms like Vinagame see is a population of 80 million and a surging number of internet subscribers (14 million at present) in Viet Nam.
So while the losses can be hefty in the fledgling business of on-line games, the potential profit is huge, if a game takes off that is.