Major mobile network operator Mobifone has split from the State-owned Vietnam Posts and Telecommunications (VNPT), and is now under the management of the Ministry of Information and Communications (MIC).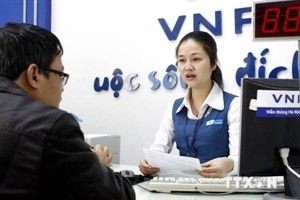 A VNPT employee is clearing up queries of a customer (Photo: VNA)
The demerger follows a recent decision by Prime Minister Nguyen Tan Dung to approve a restructuring plan proposed by VNPT, with coming into effect on June 10.
The Prime Minister also asked the MIC to submit a plan to the Government on Mobifone's equitisation expected this year.
The decision said the VNPT would roll its member companies operating in telecommunications into one firm, called VNPT- Vinaphone. The new entity would operate as a separate entity governing its own finances instead of reliant on VNPT.
VNPT was also permitted to establish member firms such as VNPT- Media, operating in multimedia services, and VNPT- Net, specialising in network infrastructure.
The Prime Minister asked the State-owned corporation to divest its capital from 63 companies and hold less than 50 percent of charter capital in 18 other enterprises.
The MIC is also required to submit to the Government a draft on the organisation and operation of VNPT in the third quarter of 2014.
Mobifone and Vinaphone used to be two telecommunication companies operating under VNPT. Along with Viettel, the two mobile network providers account for more than 90 percent of the Vietnamese telecom market.
Following the split, MobiFone will also take responsibility for liabilities worth 1.6 trillion VND (75.47 million USD) from VNPT, which Chairman Le Ngoc Minh confirmed the company would be capable of handling.
The equitisation plan will see the State retain a 75 percent stake in Mobifone Communications Corporation, with 25 percent to be held by investors, including foreign shareholders.
Founded in 1993 as a GSM launcher, MobiFone was the first mobile carrier in Vietnam, followed by Vinaphone in 1996 and Viettel in 2003.
Minister of Communication and Information (MIC) Nguyen Bac Son said the detachment of MobiFone from VNPT and its equitisation would create a healthy telecommunications market. Local subscribers would benefit from the competition, he said.
According to Pham Hong Hai, head of the MIC's Telecoms Department, splitting MobiFone from VNPT would allow MobiFone to consolidate its strong telecommunications brand both at home and abroad.
The equitisation also aims to enhance MobiFone's appeal to investors. The telco giant posted profits of 6 trillion VND (285.7 million USD) last year, while MobiFone's equitisation consultant Credit Suisse previously valued the telco at 2 billion USD. Experts believe the valuation should have crept up to 3 billion USD.