Mathematician Ngo Bao Chau, winner of Fields Medal, has been elected a member of the American Academy of Arts and Sciences, the academy announced in a press release on Tuesday.
Professor Chau was named alongside 219 other American and international figures, including historian David W. Blight, actor and director Clint Eastwood, musician Sir Paul McCartney and US Secretary of State Hillary Clinton.
Seven other scholars from the University of Chicago, where Chau lectures, have been awarded the title of academy fellow, considered one of the most prestigious honours in the United States.
The new fellow class will be inducted at a ceremony on October 6 at the Academy's headquarters in Cambridge, Massachusetts.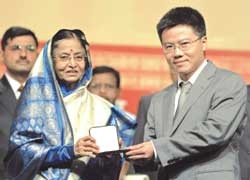 Ngo Bao Chau receive the Fields Medal from Indian President Partibha Patil in Hyderabad, India. — AFP/VNA/VNS Photo
Professor Chau has become well-known as a scholar who made decisive advances in modern mathematics on number theory and representation theory.
In 2009, he developed a proof of the fundamental lemma of the Langlands Program, which mathematicians had unsuccessfully tried to resolve for three decades. (Lemma is a mathematical term that refers to a formulation needed to solve a larger problem.) Time magazine listed his work as one of the top 10 scientific discoveries of 2009.
Chau's honours include the 2010 Fields Medal, Oberwolfach Prize, Prix Sophie Germain de l'Academie des Sciences de Paris and Clay Research Award. The Fields Medal is regarded as the highest professional honour that a mathematician can attain. As a high school student in 1988 and 1989, Chau received multiple gold medals at the International Mathematical Olympiad.
"Election to the Academy is both an honour for extraordinary accomplishment and a call to serve," said academy President Leslie C. Berlowitz.
"We look forward to drawing on the knowledge and expertise of these distinguished men and women to advance solutions to the pressing policy challenges of the day."
Since its founding in 1780, the Academy has elected leading "thinkers and doers" including George Washington and Benjamin Franklin, Albert Einstein and Winston Churchill. The current membership includes more than 250 Nobel laureates and more than 60 Pulitzer Prize winners. -
VNS