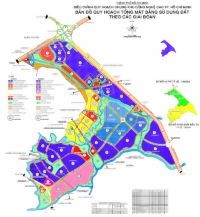 Map view of the Sai Gon Hi-Tech Park
The Sai Gon Hi-Tech Park (SHTP) has had significant development for 4 years.
So far, the SHTP has attracted giant companies in IT, science and technology such as the US-based Intel, Japan-based Nidec and Denmark's Sonion and domestic enterprises like FPT and VTC.
In the first stage, there were 10 foreign-invested and 9 local projects with total registered capital of US$711.5 million and US$102.7 million, respectively.
Currently, there are 5 factories operating in the park, providing 2,000 jobs and this year's export of the SHTP reaches US$80 million.
And in the first 9 months of this year, the total foreign investment capital of the SHTP made up 59 percent of the city's total foreign investment capital.
It is estimated that the SHPT will provide 14,000 more jobs and its export revenue will be up to US$5 billion by 2009.
In addition, more than 25 other investors have booked their place in the nearly 100 hectares of the park, for the second stage between 2006 and 2010.
Mr. Nguyen Huu Tin, vice chairman of the Ho Chi Minh City People's Committee, praised the SHTP's Management Board for turning the park into an attractive destination for many investors.
He also instructed the Board to speed up the relocation of residents living in the SHTP and quickly implement planning for the park.