Ministry of Science and Technology organized an award ceremony of the 2014 Science and Technology Press Awards in Hanoi on January 26, aiming to honor outstanding individuals with their high quality press entries during last year.

Attending at the ceremony was Chairman of National Assembly Committee for Science, Technology and Environment Phan Xuan Dung, Minister of Science and Technology Nguyen Quan.

Nearly 829 entries of press groups across the country in four category of traditional printing newspaper, E- press, television and radio participated were send to this year's awards, said the organizational board. 

As the final result, reporter Duong Tan Ba from Saigon Giai phong Newspaper won the first prize with a series of stories about chip technology development SG8V1.

This is the second consultative years that Saigon Giai Phong Newspaper won the first prize in the catergogy of traditional printing newspaper at the annual Science and Technology Press Awards.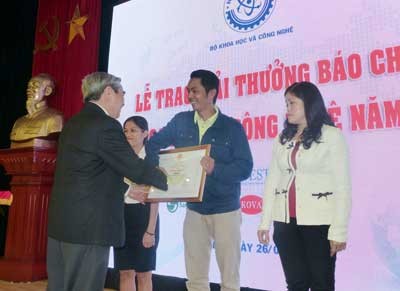 Minister of Science and Technology Nguyen Quan awards the first prize to SGGP Newspaper's reporter Duong Tan Ba. (Photo:SGGP)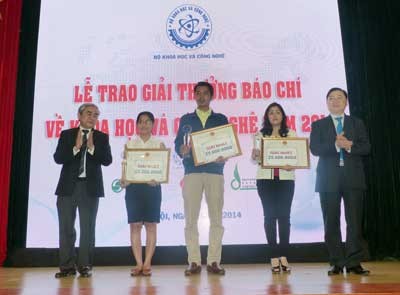 The winners with their high quality press entries at 2014 Science and Technology Press Awards (Photo:SGGP)