Ho Chi Minh City's Saigon Hi-Tech Park (SHTP), where an Intel factory is located, expects to post annual export revenue at around US$5 billion by 2009, according to its management.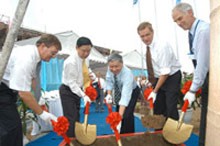 VIPs break gound for a factory of Denmark's Sonion in SHTP in September 2006
Statistics released by the management board on Saturday at the fourth anniversary ceremony of SHTP showed that the zone is home to 19 projects. The 10 foreign-invested projects have a combined capital of US$711.5 million, and the 9 local projects are capitalized at over VND1.6 trillion.
The foreign tenants include Intel, the world's biggest chip maker, Japan's Nidec and Denmark's Sonion.
So far, five factories in SHTP have been operational, creating 2,000 jobs. The zone forecasts its export revenue at about US$80 million this year. Additional 14,000 jobs are expected until 2009.
More than 25 other investors have registered to hire nearly 100 hectares in the zone in the second phase.
Facts and figures

SHTP covers 913 hectares and is 15 kilometers from HCM City downtown.

It is designed on the model of a technical economic zone, attracting foreign investment and mobilizing domestic hi-tech resources.
It combines production, trading and research, boosting technological transfer, developing the hi-tech industry and human resources for the industry.

It focuses on attracting companies in following fields: semi-conductor chips, information technology, telecommunications, automation, precision engineering, new materials, nano and biotech use applicable to enterprises focusing on healthcare, drugs and the environment.
Related link
Saigon Hi-Tech Park