A ceremony marking the 10th anniversary of the Golden Globe Awards, Scientific and Technological Awards of the Ho Chi Minh Communist Youth Union's Central Committee, and honoring of 10 young talents will be held in Hanoi on December 23.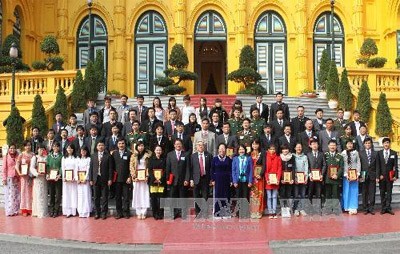 (Photo: VNA)
The 2013 Golden Globe Awards were given to excellent individuals in field of Information Technology and Telecommunication; Medical Technology; Biological Technology and Environmental Technology.

Dr. Ta Hai Tung, Director of International Collaboration Center for Research and Development on Satellite Navigation Technology in South East Asia (NAVIS Center) under the Hanoi Polytechnic University; Dr. Phan Xuan Hieu, teacher of the University of Technology under Vietnam National University in Hanoi; Le Yen Thanh, student of Ho Chi Minh City University of Natural Sciences; MA Le Viet Hung, doctor and teacher of Ho Chi Minh City University of Medicine and Pharmacy; Doctor Huynh Van Binh Gia Dinh of People's Hospital in Ho Chi Minh City; MA Tran Thi Thu Ha of Hanoi Obstetric and Gynecology Hospital; Engineer Vo Khanh Hung, teacher of Ho Chi Minh City University of Agriculture and Forestry; MA Dam Thi Lan, teacher of Hanoi University of Construction; MA Tran Dai Nghia of Lam Thao Fertilizers and Chemicals Join Stock Company (formerly known as Super Phosphate Plant Lam Thao); and Dr. Le Van Canh, teacher of Vietnam National University in Ho Chi Minh City were the recipients of the awards.