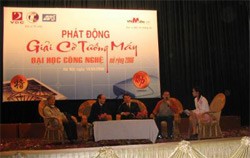 The tournament board exchanges with competitors in the launching ceremony (Photo: www.nchess.com/vn)
Different from the first chess tournament in 2001 which required that the competitors' computer hardware configuration be all the same, the tournament this year has no technological restrictions, but the chess programs have to comply with the rules of Viet Nam's Chess Union.
Dr. Pham Hong Nguyen, lecturer of the University of Technology, on behalf of the tournament board said "Restrictions on hardware probably hold back the chess engine's capacity. Therefore competitors taking part in the tournament this year can use any kind of hardware configuration."
"Making a chess program comply with the rules of Viet Nam's Chess Union is not a simple task, but it will stimulate the AI (Artificial Intelligence) skill of Vietnamese competitors, especially university students. So we can catch up with international standards" Mr. Nguyen added.
Competitors can use any kind of computers including desktop, laptop, Macintosh, or even the specialized devices. Competitors can also operate their devices remotely in case they are not portable. Each competitor is allowed one chess program to be run on their PC. Moves will be computer generated and displayed on a large Chess Board for all to see. Competitor can be a group or an individual.
During the game, the operator, who could be a proxy, will operate the program. Two programs compete with each other through two operators with a Chess Board in between: the first program (chosen by drawing lots) will automatically make the first move that the opponent's program will have to calculate, analyze and generate a counter move. The pieces on the Chess Board will be placed to exactly reflect the two program generated moves on the PCs. The result will be based on the Chess Board.

However, there are some concerns about the tournament's rules. It is hard to ensure competitors do not install cheating programs or functions when there are no rules on making the programs.

To solve this possible problem, Dr. Pham Hong Nguyen said, "The tournament board requires absolute honesty in competition. If we find out any cheating in a game, we will ask the competitor to re-make that move or to prove it is calculated by his or her computer".
Candidates can enter the tournament after the launching ceremony. The final match is scheduled to take place on September, 2006. For more information, please visit the tournament's official website: www.nchess.com/vn.

Applications for the tournament have to be sent to the office of the Communist Youth Union of the University of Technology at 144 Xuan Thuy Street, Ha Noi.