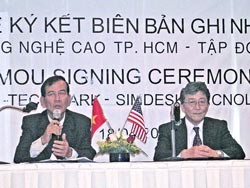 Mr Nguyen Dinh Mai (left), Deputy Director of the SHP's Management Board and Mr. Huso Sugi Yama (right), Deputy Chairman of the Simdesk Technologies Incorporation at the signing ceremony.
Experts from Sai Gon Hi-tech Park (SHP), in cooperation with the Simdesk Technologies Incorporation (US), will develop a pilot run of Simdesk technology for 1,000 users, focusing on the public services, education, enterprises and young people. A feasibility study will be conducted over the next five to six months.
The Simdesk technology has the advantage for turning all devices which can connect to the internet, such as desktops, laptops, cell phones, into Internet access points.

Users can create, store, print and share their personal information over the secure Internet connections from anywhere, any time.
Due to its low overhead in hardware and software expenses, the Simdesk technology is a low-cost and plausible solution, because investors do not need to pay for hardware and software to conduct e-transactions.
The project began with a Youth IT Education Program launched by SHP and the HCM City Youth Union, from July, 2004 to June, 2005. After one year, over 4,000 Compaq HP-SHTP were sold at a discount to young people in the city.

However, the initial investment, US$400/ PC and US$300for licensed MS Windows and MS Office, was still too high. In order to find a better way to continue the program, SHP, in conjunction with its strategic partner HP, has decided to develop a pilot run of the Simdesk.

SHP will focus on technological specification of the solution and study the possibility of a Vietnamese version, according to Mr. Pham Phu Khanh, deputy manager of the Bee Next Company, one of the co-developers of the technology.
On behalf of the Vietnamese side, including the Youth Scientific and Technological Promotion Centre (YSTPC) and the Management Office of Information Technology Projects (MOITP) of the HCM City Department of Posts and Telematics, SHP has signed a contract with the Simdesk Technologies Incorporation to conduct the Simdesk technology development  project.
Mr Nguyen Dinh Mai, Deputy Director of the SHP's Management Board, said that if the pilot run is successful, the city could negotiate to purchase the Simdesk technology to satisfy the demand for IT application in education, and e-commerce small and medium businesses management.