Despite of increasing demand of solar water heaters, solar cell producers are facing with a lot of difficulties with several projects having been halted in Vietnam.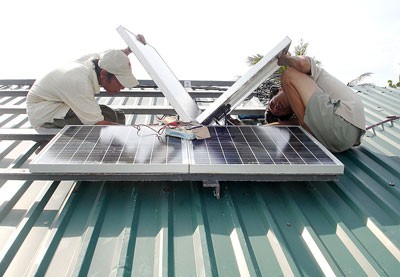 Workers install solar cells in Truong Sa Islands (Photo: SGGP)
Vietnam is estimated to have high solar potential with a theoretical potential of 49.3 billion TOE. The central and southern regions have longest sunshine time, said Huynh Kim Tuoc, director of HCMC Energy Conservation Center.
As a result, the Government's policy to increase renewable energy source by 8 percent of total commercial power output by 2020 and 11 percent by 2050.
HCMC and provinces nationwide have cooperated with businesses to subsidize consumers with VND1 million a solar water heater.
The country has around 42,000 heaters sold in the market every year with annual growth rate of 20 percent. The number of installed heaters in HCMC is 30,000-40,000 annually, revealed the Ministry of Industry and Trade in 2011.
Mat Troi Do (Red Sun) Energy Company is the first solar cell producer in Vietnam which came into operation in 2009.
The country now has 90 solar application companies with the main product being solar water heaters. Some designs of the product have been exported to Laos, Cambodia and Myanmar.

However, businesses have met with fierce competition from import products which are more diversified in designs.
Besides, most domestic companies have just assembled products. Vacuum tubes, which price accounts for 70 percent of the product value, are being imported from China. Solar panels are also imported from Taiwan (China) and Malaysia.
A lot of solar cell production projects have stopped in Vietnam. For instance, the US First Solar Group announced to end their US$1.2 billion project in April, 2011 after eight months of breaking ground in Dong Nam (Southeast) Industrial Zone in HCMC.
Dong Duong Energy Corporation has extended the progress of a US$390 million project in Quang Nam Province, according to the Management Board of Chu Lai Open Economic Zone. Another US$300 million project by Worldtech Transfer Investment Company has also come to an end in Thua Thien-Hue Province.
Technology transfer is necessary to develop solar applications in Vietnam. However the new technologies must be suitable with Vietnamese climate conditions, said Phan Minh Tan, director of the Department of Science and Technology in HCMC.