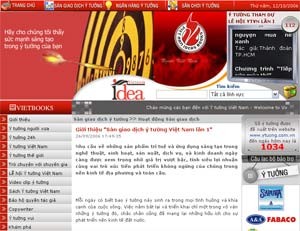 View of the online trading portal
An online trading portal for creative ideas was set up to help students from universities in Ho Chi Minh City sell their research projects online.
During the first session scheduled to be held at the V3 Coffee in Ho Chi Minh City, four research projects will be sold by auction.
The first auction will include the "Future Direction for Bao Loc – Lam Dong Tea" project, which won the second prize at a science research contest for students in 2005 (Eureka 2005) and "Research on Improving Competition Capability of Viet Nam Foreign Trade Bank", which earned the third prize of Eureka 2004. Both projects were set up by two groups of former students of the Ho Chi Minh City University of Economics.
The other two projects will be chosen by the HCMC Center for Science and Technology Information (CESTI), which is one of the six members of the portal founders.
As planned, the trading portal sessions will be held monthly. Applicants can register with the Young Science and Technology Center, another CESTI founder member, at 1 Pham Ngoc Thach Street, District 1, Ho Chi Minh City.

The portal was launched by Vietbooks in coordination with a number of state agencies.