Vietnam ranks 61st in the world in the 2008 IT industry competitiveness index, retaining the same place from its 2007 ranking, according to a latest international study issued by the Economist Intelligence Unit.
The Business Software Alliance (BSA), which sponsored the study, announced the report at a press conference in Hanoi Feb. 24.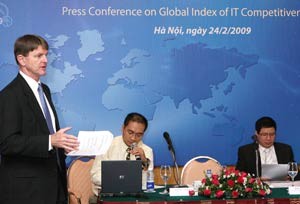 Jeffrey Hardee (L), BSA vice president and Asia Pacific director, makes a point at Tuesday's press conference in Hanoi (Photo: Hoa Pham)
Four Asia-Pacific economies – Taiwan, Australia, South Korea and Singapore – are among the top ten.
The study, now in its second year, assesses and compares the information technology (IT) industry environments of 66 economies to determine the extent to which they enable IT sector competitiveness.
Although the top 20 economies remain the same from one year ago, nine moved up and 11 went down in the rankings. The top five are the US, Taiwan, UK, Sweden and Denmark. The top five in Asia Pacific are Taiwan, Australia, South Korea, Singapore and Japan.
"This year's study shows that major shifts in rank stem from performance in three main areas: R&D environment, human capital, and IT infrastructure," Jeffrey Hardee, BSA vice president and Asia Pacific director, said at the Hanoi press conference.
"Economies that have improved in these sectors have not only improved their ranking, they have also placed themselves in a better position to reap the benefits of a strong technology sector, which is crucial in addressing economic and social challenges."
He added, "Additionally, strong legal frameworks for the protection of intellectual property rights and systems to address e-commerce and cyber security are critical to ensure continued investment in technology and innovation. Leveraging these factors will allow economies in Asia Pacific, regardless of size, to bolster their IT sector and participate more fully in the global networked economy."
According to the study, the Vietnam local software industry is beginning to develop and is attracting the attention of Western venture-capital firms. But Vietnam will need to maintain the impetus behind infrastructure improvement over the long haul, in order to provide the platform its fledgling IT sector will need to flourish.
The Economist Intelligence Unit is the business information arm of the Economist Group, publisher of The Economist.
The Business Software Alliance, the study sponsor, is an international organization dedicated to promoting a safe and legal digital world.