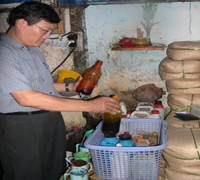 Additives in food
A research group from Ho Chi Minh Chemical Technology Institute has made successfully a tool which could detect borax in foods. Checking borax tool kit includes pieces of paper containing "cur cumin" (a mix extract from curcuma) and a vial of boric acid.
To test borax, the test - paper will be pressed on the surface of food, then, boric acid will be dropped on the test - paper.
Depending on the color change, we can find out if the food contains borax or not.
A test takes a maximum of 3 minutes. This tool can detect even very small quantity borax in food (50mg/kg). MSc Phung Van Trung, lead of research group said, the price of a tool pack is about VND25000/box (100 kit/box).