The successful launch of Vietnam's first satellite, VINASAT-1, tops the annual list of prominent information and communication events of 2008. The Ministry of Information and Communications announced the list in Ha Noi on Dec. 30.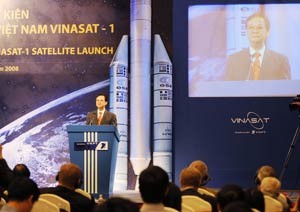 Prime Minister Nguyen Tan Dung speaks at a meeting held early April 19, 2008 in Ha Noi for the launch of VINASAT-1, Vietnam's first satellite (Filed photo)
VINASAT-1 was launched into orbit at 5:17 am of April 19 (Vietnam time) Kourou, French Guyana. Together with more than 200,000 km of optical cable in land and under sea, the modern digital microwave system, VINASAT-1 has contributed to modernizing the national information facilities, improving the capacity and safety of the information network and accelerating the supply of telecom, IT, Internet and television services for people in remote, mountainous areas and islands.
Coming second is the separation of postal services from telecom, which demonstrated the renewal in management, conforming to Vietnam's WTO commitments. The Vietnam Post Corporation officially began its operation on Jan. 1, 2008.
The tightening of discipline in press and publishing activities occupies the third place of the list. In 2008, the press has contributed markedly to keeping the public well informed of the government's measures to curb inflation and maintain macro economic stability, economic growth and social security.
Fourthly, the Prime Minister issued a Decree on the Internet – a step forward in the management of the use of the global network.
The fifth place is the announcement of the ranking of ministries and localities' websites based on the number of accesses and public service supply.
The investment of 1,200 billion VND in construction and maintenance of the telecom service supply system for public interest in remote and isolated areas and islands is listed the sixth most important events this year.
It was followed by a record increase in the number of BTS stations, which reached more than 13,700 stations by November. The country reported 79.1 million telephones put into use, of which mobile phone subscribers representing 83.5 percent. Vietnam now has about 92.6 telephones on every 100 people.
The National Assembly's adoption of the Law on amendment and supplement to a number of articles of the Law on Publication comes eighth, and the establishment of the Department for Radio, Television and E-information Management and Department of Information for Foreign Service takes the nine place.
The unification of inter-regional phone call charges nationwide is the 10th major event in the list.