Eight mechanical engineering students at Can Tho University have designed and built two solar-powered cars with help from their lecturer.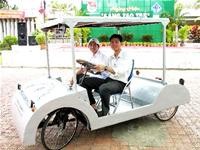 Team leader Duong Minh Hung (in the driver's seat) and teammate Le Hoang Ri in one of their two solar-powered cars
It took more than one year to make the two vehicles, which are 2.7 meters long and weigh 133 kilograms apiece.

Each is equipped with two 500-watt generators and can reach a maximum speed of 25 kph. The solar cells on the roof can even pick up energy from streetlamps.
The commercially minded team reckons there could be a market for their solar cars at popular tourist spots around the country.