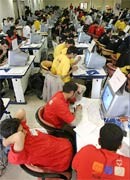 Teams compete at the CM/ICPC contest in Tehran last year.
For the first time, the Asia Pacific ACM (Association for Computing Machinery) International Collegiate Programming contest (ACM/ICPC) is scheduled to be hosted in Viet Nam over two days on the 25th and 26th of November.
This is an opportunity for Vietnamese IT students to show their team-working abilities, demonstrate their creativeness in programming software, as well as improve their English, said Nguyen Long, chairman of the Viet Nam Association for Information Processing (VAIP).
The United States in 1970 was the first ever host of ACM/ICPC and the contest became a worldwide competition in 1989. Nowadays, it is the world's most prestigious university competition in computing sciences and engineering.