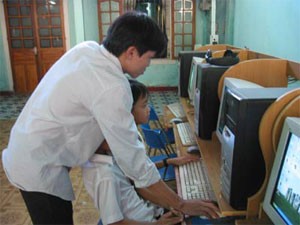 Vietnamese web surfer can connect to the overseas sites, though the access is still very slow.
Viet Nam's internet and phone networks were getting back to normal yesterday three days after an earthquake off Taiwan severely disrupted services. However, Internet access in Viet Nam is still very slow and usually out of service.
Le Dang Dung, deputy CEO of the Internet service provider Viettel, said that its international phone link was completely restored yesterday, while between 80 and 85 percent of its Internet transmission capacity was recovered.
Asides from the addition of a 45 Mbps satellite backup line connecting directly to the US, Viettel somehow managed to have its foreign partners switch traffic away from the damaged cables.
Other top names of Internet service providers such as FPT Telecom and the Viet Nam Data Company also announced yesterday their communication was almost restored.
However, many other internet service providers also opting for the indirect method caused overloaded connection.
Meanwhile, Hong Kong's Office of the Communication Authority said the repair progress depends on how badly the cables are damaged, and the weather on the next day as they are underseas.
Four ships carrying engineers will be dispatched to repair the damaged cables on January 2, according to Taiwan's largest phone company, Chunghwa Telecom. It said the process could take two to three weeks.
The Ministry of Posts and Telecoms yesterday asked local ISPs to try their best to deal with the problem, such as using satellite backup line and renting transmission capacity of other cable operators, said an official of the ministry.
He also added that the ministry will permit foreign ships to go into Viet Nam's territorial waters to repair the damaged cables in case of emergency.