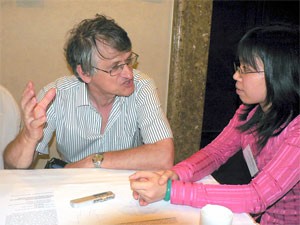 Prof. Klaus von Klitzing (L) talks with a Vietnamese young scientist at the symposisium
"Nano physics is promising in Viet Nam," said Nobel Prize laureate Klaus von Klitzing at the 6th international "Viet Nam Meeting" science symposium held in Ha Noi Aug 6 - 12.
Two Nobel Prize winners, Prof. Klaus von Klitzing and James Cronin, were invited to attend the symposium beside over 100 well-known Vietnamese scientists.
Large numbers of Vietnamese researchers and scientists, especially students, are becoming increasingly keen on the new applied science of nano physics, Klitzing said.
But Viet Nam's lack of research labs where scientists may conduct their work is a barrier to both applied and physical science. Klitzing urged Viet Nam to build more research centers to catch up international advancements.
Klitzing, who won the Nobel Prize in 1985, affirmed that Vietnamese scientists have great potential and are wholeheartedly welcomed to work at any international workshops and research centers.
In addition, 50 scholarships, worth VND3.8 million each, were awarded to students of the Viet Nam National University – Ha Noi on Thursday.