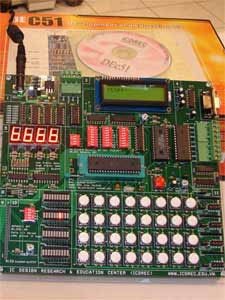 SigmaK3 chip, foundation for making commercial chip SG-8V1 (Photo: VietnamNet)
Ho Chi Minh City's Department of Science and Technology has commissioned the HCMC University of Technology to design and commercially produce microchips, the first of its kind in Vietnam.
The US$706,000 program will be undertaken by the university's Integrated Circuit Research Education Center.
The chip, coded SG-8V1, would be designed here but produced abroad since Vietnam has no chip plants, center director Ngo Duc Hoang said.
The design would be sent to the US and the first microchips delivered in March 2010, he said.
It will be based on the SigmaK3 chip designed by the university earlier this year.     
The chip would cost US$3-4 each, 30 percent cheaper than its imported counterparts, Mr. Hoang added.