Vietnam and Italy signed the fifth scientific and technological cooperation programme in the 2014-2016 period at a session of their Joint Committee on Science and Technology in Rome on October 2.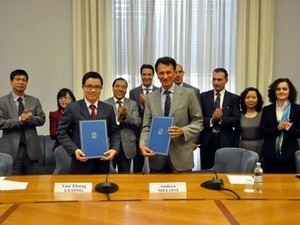 The signing ceremony (Source: VNA)
During the session, the two sides reviewed bilateral cooperation programmes in the field over the 2009-2013 period, as well as discussed Vietnam's policies and demands and the possibility of new joint projects in the time ahead.
Italian scientists and managers expressed their delight at Vietnam's attention to scientific and technological cooperation, saying that this is a field of great potential in bilateral cooperation as Italy, which boasts strength, is willing to collaborate with Vietnam .
The two sides also reached a consensus on several joint research projects at the session.
According to Deputy Director of the Department of International Cooperation under the Vietnamese Ministry of Science and Technology Luong Van Thang, in addition to the exchange of scientists, the two countries will expand their cooperation to technological transfer, research activities, and the use of research equipment and laboratories.
During its stay in Italy, the Vietnamese delegation also held working sessions with Italy's Ministry of Education, Universities and Research and Ministry of Economic Development. It also visited several Italian universities and institutes which have set up cooperation with Vietnam.