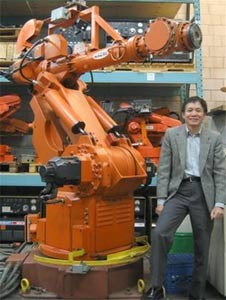 Do Hai Duong stands next to a robot in his Electroservo Inc.
Electroservo Inc. is the first and only Vietnamese robotics company in Canada.

Establishing high profile, long-term contracts with top names in Canada's auto-parts industry, such as Michelin, ThyssenKrupp and Magna, is what has allowed Electroservo Inc. to maintain its prime positioning atop the market despite the surging Canadian dollar.
The man fulfilling his teenage dreams and creating the success of the Electroservo Inc. is Do Hai Duong, the Vietnamese chairman of Electroservo Inc.
Handmade radios
Born to a poor family, Hai Duong had a very difficult childhood. His failure to get into a university left him assembling radios out of components he had salvaged from the American forces' abandoned and wrecked war planes.
At the time, his handmade products sold quite well, but not well enough to fully support him. "Those were my first days in the electronics sector," recounted the Vietnamese chairman.
To make a living, he was forced to remove vessels' rust and sell noodles while dreaming of working for an electronics company. In hopes of making the dream a reality, he attended an electronics course at a vocational school. With his education, he found work at an electronics plant and was soon sent to the University of Technology by the head of the plant due to his exceptional ability.
"At that time, I supplemented my regular salary by fixing televisions. It wasn't much money, but I loved the job," said Do Hai Duong.
Moving to Canada in 1985, he bean working as an electrician in the Guelph District and quickly became famous for his ability to fix anything.
"Once, a robot in the factory where I worked had some problems. Every engineer gathered to devise a solution, but much to their surprise; I had repaired the robot by the time they finished" Hai Duong recalled.
Vietnamese, born and raised
After 4 years in Canada, Do Hai Duong was sent to the U.S. to work for an automotive components company.
While working in the U.S., he was teamed up with an American Veteran of the Viet Nam war, so the director asked him to hide his Vietnamese nationality.
Nissan, a Japanese motor company, was highly impressed by the craftsmanship of the Vietnamese engineer on the automatic assembly line.
"My American co-worker was ecstatic because the line ran so smoothly. He was very impressed with my work," said the Electroservo's chairman "I felt it an appropriate time to announce that I was Vietnamese".
Later, Do Hai Duong entered the Professional Engineers' course of the Toledo University in Ohio. Upon graduation in 1993, he was invited to join the National Society of Professional Engineers.
Returning to Canada, Hai Duong established the Electroservo Inc. while maintaining employment with the ThyssenKrupp until 1999.
Electroservo Inc. is housed in an area of over 3,000 square meters in Trillium Business Park, Kitchener City, Ontario, Canada.
The company provides robot repair and PM (preventative maintenance) services by contract.
The Vietnamese-run company is being expanded throughout North America and into Asia. Do Hai Duong returned home to Viet Nam in June to research the local market.
"The demand for automatic assembly lines by Vietnamese producers is very high, but the improvement seems unaffordable to them" assessed Hai Duong.
"If the business in Viet Nam does fare well, I will move back. There is no place better than home, sweet home" said Do Hai Duong.
Reporter of The Record Magazine asked Do Hai Duong: "Do you have advices to those who come to Canada for the first time and want to start their own business?"

The Vietnamese chairman replied: "Let show people your ability, do not say too much. When a customer gets problems, I will prove him that I can handle it immediately"