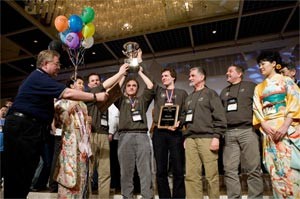 The champions from Warsaw University
Viet Nam's Chicken team might have only come 44th in this year's Association for Computing Machinery International Collegiate Programming Contest in Tokyo, Japan, but it did come first among the teams from Southeast Asia.
The 88 teams that qualified for the final were challenged to solve 10 highly complex, real-world programming problems within five hours.
First place went to Poland's Warsaw University, whose team managed to solve eight of the problems, followed by China's Tsinghua University with seven, Russia's St. Petersburg University of Information Technology and MIT of the USA with six apiece, and China's Shanghai Jiao Tong University with five
The final started off with a single problem that took the Polish and American teams only 30 minutes to solve. After that, the 88 teams were split into three competing groups.
The Chicken team solved three of the eight problems to come 12th out of the 28 Asian teams and first among the Southeast Asian teams.
"This praiseworthy achievement shows that the IT ability of Vietnamese students is world class," said Nguyen Long, the competition's director in Ha Noi.
"Still, to get a better result next time, they will have to work much harder," he added.