After successful initial investment in Laos and Cambodia, Viettel is putting its mark in Myanmar and promoting cooperation with North Korea, Cuba and Venezuela in 2009, the Military Telecom Corporation (Viettel) said February 15.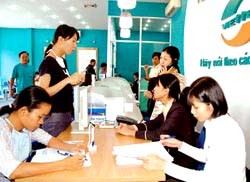 Customers registering cell phones with Viettel in HCM City. (Photo:SGGP)
In Cambodia, Viettel has completed 100 base transceiver stations (BTS), deploying 5,000 km cables with 100,000 subscribers after two months of testing.
Viettel is trying to become the second largest telecom provider in Cambodia this year.
In Lao, Viettel has installed 200 BTS with around 50,000 mobile subscribers.