Viet Nam's satellite Vinasat-1 can not only meet domestic demand, but will provide services to other Southeast Asian nations as well as for India, Japan, South Korea and even the U.S. state of Hawaii, said Mr. Lam Quoc Cuong, deputy director of the Viet Nam Telecommunications International Company (VTI) on Thursday.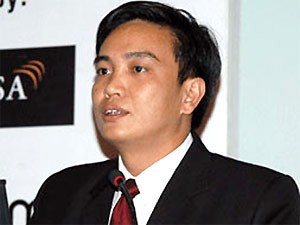 Mr. Lam Quoc Cuong
The company has signed a memorandum of understanding with Asia Broadcast Satellite and with SingTel's ProtoStar, an Asian satellite services operator, to combine the capacity of the satellites ABS-1, Vinasat-1 and Protostar.
In addition, the company has an agency agreement with Universal Telecom Services.
VTI is having discussions with some foreign companies concerning high-speed broadband services and telecommunication infrastructure in the Asia-Pacific region, Mr. Cuong said.