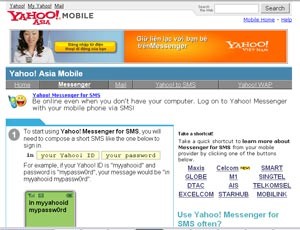 View of Yahoo! Mobile website
This year Yahoo! Mobile service has decided to gauge its popularity and usability amongst Vietnamese mobile phone subscribers.
The three top names in local mobile phone communication, MobiFone, VinaPhone and Viettel Mobile, have gone into cooperation with the GAPIT Communication Company to offer the new service in Viet Nam.
Accordingly, GAPIT will provide Yahoo! PC to SMS (PC2SMS) and Yahoo! SMS Messenger for subscribers of the three service providers.
"GAPIT is excited to be the Yahoo! service provider for local mobile phone subscribers," said Nguyen Duc Thang, general director of GAPIT. "Since Yahoo! has become very popular nationwide, we believe the new features will tempt many local Web surfers to test-drive the service."
"The cooperation between GAPIT and Yahoo Inc. has great potential as it will help Vietnamese mobile communication providers offer more services to their users. New bells and whistles are always effective in attracting more customers, as well as generally raising revenue," explained Reza Behnam, CEO of Yahoo Inc., Asia Pacific branch.