Vietnam coach Henrique Calisto is to start this year's third training camp May 19 after calling 26 players, including three naturalized, to prepare for an away friendly with Kuwait on May 31.
The game is part of the national squad's campaign to prepare for their 2011 Asian Cup qualifiers this year.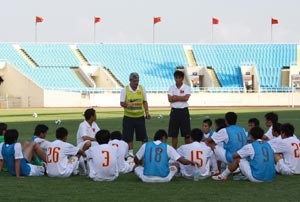 Vietnam coach Henrique Calisto (standing, L)and his players under training at Hanoi's My Dinh National Stadium for a May 14 friendly with Olympiakos (Photo: SGGP)
The Portuguese tactician has called goalkeeper Dinh Hoang La, or Lytovka Mykola from Ukraine, midfielder Dinh Hoang Max (Maxwell Eyerakpo from Nigeria) and striker Huynh Kesley Alves, whose Brazilian name is Kesley Alves. They all received Vietnamese citizenship earlier this year.
This is the second time keeper La and midfielder Max have been named for the national team, and the first for the Brazilian-born striker.
La and Max joined the national squad's second training camp this year on May 10 and both played in Vietnam's friendly against Greek reigning champions Olympiakos in Hanoi on May 14. The goalie made at least three brilliant saves to keep his net all clean and played well against high balls from the European club. Meanwhile, Max, who played in the second half, set up a cross for striker Nguyen Quang Hai to score the only goal in the 88th minute in the home side's 1-0 victory over Olympiakos.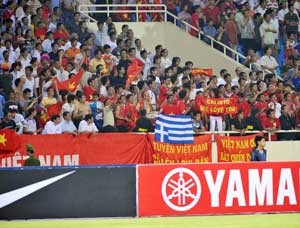 Fans watch the Vietnam vs. Olympiakos friendly at Hanoi's My Dinh National Stadium on May 14 (Photo: SGGP)
Actually, coach Calisto did not call Brazilian-born Huynh Kesley and other Binh Duong players for the second training camp only because they were playing for their club in the Asian Football Confederation (AFC) Cup.
Vietnam's defending champions Binh Duong are to play against the Maldives' Valencia Club May 19 in that country in the AFC Cup. Therefore five Binh Duong players – Huynh Kesley, Vu Nhu Thanh, Nguyen Vu Phong, Huynh Quang Thanh and Nguyen Anh Duc – will join the national team's training camp on May 21 after they return from the Maldives.
The Vietnamese club cemented their place in the next round of the AFC Cup with a 2-0 home victory over Singapore's Home United on May 5.
As soon as Huynh Kesley started to play for Binh Duong in 2005, he emerged as a leading striker in the Vietnamese League. He was that year's top scorer with 21 goals, but has scored just four goals for his club after 13 games this season. Local experts say his role in the club has evolved from simply scoring to setting up the ball, too.
Coach Calisto called 26 players for this training camp in Hanoi but will bring only 20 to Kuwait for the May 31 friendly, one of the games Vietnam prepare for their 2011 Asian Cup qualifiers.