Eight regional countries have put their names down to take part in the 13th Southeast Asian University Games this December together with host Viet Nam, the Vietnamese organizing committee has announced.
Malaysia has declined to join due to unavailability of budget while East Timor has not confirmed its participation in this event in Ha Noi in the last week of December.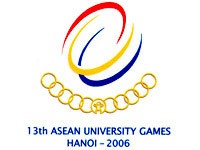 The event's logo
Brunei, Cambodia, Indonesia, Laos, Myanmar, the Philippines, Singapore, Thailand and Viet Nam will compete in twelve sports: track and field, swimming, football, pencak silat, taekwondo, volleyball, badminton, chess, wrestling, basketball, table tennis and water polo. Vietnamese students will take part in all the sports.
Among the ten venues for the regional event, five hosted competitions of the 22nd Southeast Asian Games in 2003.
This year, the sport event's theme is 'ASEAN Students - Cooperation, Creativity and Success'.
In related news, the annual Asian student football tournament will take place in Viet Nam's central city of Da Nang from August 10 to 17. Thailand, Brunei and Viet Nam are in group A; Indonesia, Singapore, China and Sri Lanka in group B; while group C comprised of Malaysia, the Republic of Korea, China's Macau and China's Hong Kong.