Dong Tam Long An lost 0-2 to Australia's Adelaide United at Long An Stadium in their Group G AFC Champions League football match yesterday.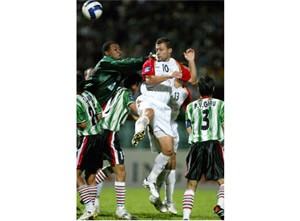 Fernaldo Luiz Rech (10) gives the visitors an early lead with a close-range header
It was the local club's second defeat in a row after their miserable 1-4 loss to Korea's Seongnam Chunma at the same venue on March 8.
The Aussies scored twice in the first half and could have put more away if they'd taken all the chances that were offered.
First blood was drawn in the 17th minute when Fernaldo Luiz Rech outjumped goalkeeper Santos and powered a header from close range past the helpless goalkeeper from a right corner.
The home team suffered another blow when Travis Dodd extended the visitors' lead in the 30th minute by finishing off a hopeful long ball from Matthew Kemp near the left sideline.
Dong Tam started the second half well but Tai Em's drive at goal from close range sailed over the crossbar. Undeterred, they kept plugging away but the steady boys from Adelaide were able to thwart the locals at every turn.