The Agribank Cup in Ha Noi on October 25-29 promises to be an interesting football tournament as representatives of the four competing teams said they all want to win the Cup.
Defending champions Viet Nam want to protect their title and to rehearse for the Asian Games this December, in which they and Bahrain's national team will be in the same group.
Viet Nam head coach Alfred Riedl has decided to transform his team's traditional counterattack to an attack formation. The Austrian wants his Vietnamese players to get ahead in a high formation, assistant coach Mai Duc Chung said.
Viet Nam, who defeated the U-23 teams of Thailand and Malaysia to win the Capital Cup also in Ha Noi two weeks ago, will deploy attacks along two flanks before crossing the ball in to the box to challenge their opponents.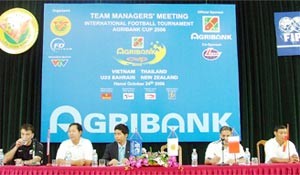 Representatives of the participating teams at the press meeting (Photo: Viet Nam Football Federation)
Speaking at Tuesday's press conference in Ha Noi, Mr. Chung said, "Our team is eager to compete with New Zealand, Bahrain and Thailand. Our strength is the determination to win though our opponents are all very strong teams."

New Zealand coach Jacob Spoonley said, "We have no weaknesses at all. Our strengths are the young and mighty players who can play aggressively and very fast."
Asked by reporters to confirm "no weaknesses", he reiterated "no weaknesses".
Meanwhile, Thailand team manager Thavatchai Sajakul said his team will play on behalf of their country and consider the tournament a good chance to prepare for the Asian Games.
Thailand coach Chanvit Phalajivin told Vietnamese reporters right after arriving in Ha Noi Monday, "We were not successful last year but the difference of this year is that we come to win the championship with the US$40,000 prize."
Bahrain team manager Omran Abdullah Abdalwahab said at Tuesday's press conference, "We flew for 15-16 hours to Viet Nam not for tourism purposes. We'll try our best to take the highest title."  
The round-robin tournament at My Dinh National Stadium, held by the Viet Nam Football Federation and sponsored by Viet Nam's Agribank, has only one trophy for the winners so all the games promises to be interesting. 
Schedule (VN time)
Wednesday
Thailand vs. Bahrain: 3:10 pm
Viet Nam vs. New Zealand: 5:30 pm
Friday
New Zealand vs. Thailand: 3:30 pm
Vietnam vs. Bahrain: 5:30 pm
Sunday
Bahrain vs. New Zealand: 3:30 pm
Vietnam vs. Thailand: 5: 30 pm