MILAN, Italy, Sept 16, 2010 (AFP) - AC Milan coach Massimiliano Allegri said his team had improved since their shock defeat to minnows Cesena as they beat Auxerre 2-0 in the San Siro in their Champions League opener.
Zlatan Ibrahimovic scored both goals to get off the mark in the red and black shirt of Milan in only his second game, although he missed a penalty in Saturday's embarrassing 2-0 Serie A loss.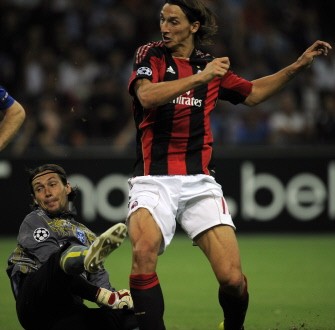 Zlatan Ibrahimovic (R) scores against AJ Auxerre during their Champions League match at San Siro on September 15, 2010. AFP
"We concentrated better (against Auxerre), the first half was like the Cesena match where they played it very tight," said Allegri.
"In Cesena we conceded two goals on the counter attack but tonight (Wednesday) we conceded just one chance on the counter and fortunately they didn't score.
"But we showed patience, we had a couple of chances in the first half, we played better in the second when we got the ball to Ibra in the attacking phase."
Auxerre squandered the best chance of the first half on a rapier counter-attack when Steeven Langil blazed over the bar from a tight angle instead of pulling the ball back to any one of three team-mates waiting for a tap-in to an empty net.
They had also hit the bar through Kenyan Dennis Oliech.
But after the restart it was a different game as Ibrahimovic prodded home Kevin-Prince Boateng's flick from six yards and then curled a second around goalkeeper Olivier Sorin on a quick counter-attack.
The big Swede said it was just the beginning for him.
"I'm working hard and now you're starting to see the results," he said.
"It's a great night, in the second half the tension changed and we played better.
"It's my first game at the San Siro (for Milan, he used to play for Inter) and it meant a lot to me."
One of Milan's stars was undoubtedly Ghana midfielder Boateng who was a driving force from midfield after coming on as an early substitute for injured captain Massimo Abrosini.
"It was difficult for me to come in because I couldn't warm up properly but that's what happens," said Boateng.
"I just got lucky, I tried to do my best to help the team because we lost at the weekend.
"It was important, we try to play good football and get results, we'll keep going and see what happens."
His coach too praised the young midfielder.
"Boateng is a very good player who did well coming in, he's got good strength and technique and he's young. He has the characteristics that complete those of the others in midfield," he said.
Auxerre boss Jean Fernandez was frustrated that his team had failed to take their first half chances.
"It's difficult to accept (the defeat) but in a way, especially with how the second half went, it's normal," he said.
"In the first half we had a great chance to score, if we'd scored we would've created more problems for Milan.
"We lacked experience in that situation with a four-on-one. If we'd had more experience we could have led 1-0, it would have been more difficult for Milan.
"We're frustrated, as I said before we could've led 1-0 but after 60 minutes our physical level dropped.
"We didn't manage the ball as before. But my big regret is that at 1-0 down we were still in the match.
"It came on 66 minutes and there were still 24 minutes to get back into the game, it was still possible.
"What hurt more was conceding this second goal three minutes after the first on the counter-attack and then it was game over."