COPENHAGEN, Feb 23, 2011 (AFP) - Carlo Ancelotti believes Chelsea's 2-0 win over FC Copenhagen proved his forwards are capable of firing the team to Champions League glory.
After the misery of last weekend's FA Cup exit against Everton, Nicolas Anelka gave Blues boss Ancelotti some much-needed breathing space as his double-strike put Chelsea within touching distance of the Champions League quarter-finals.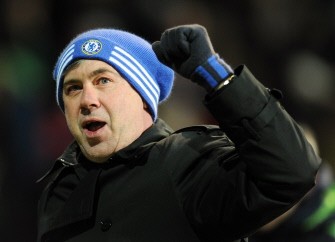 Chelsea's Manager Carlo Ancelotti gestures to the fans after the final whistle against FC Copenhagen on February 22, 2011. Chelsea's Nicolas Anelka scored twice and Chelsea won the game 2-0. AFP
Defeat against the Danish minnows in the last 16 first leg at an icy Parken Stadium could have proved fatal for the under-pressure Ancelotti, but Anelka's lethal finishing ensured the Italian won't have to worry about being frozen out just yet.
Ancelotti opted to leave Didier Drogba on the bench as he played a 4-4-2 formation with Anelka and Torres spearheading the attack.
Anelka showed his class as he netted two clinical finishes to take his tally in Europe this season to seven goals in six games, while Torres went close to breaking his duck following his blockbuster move from Liverpool.
Drogba has been out of form lately but he remains a formidable option to have on the bench and Ancelotti insists the trio won't complain about being rotated to keep them fresh for an assault on the Champions League.
Asked if they were the best in Europe, Ancelotti said: "Yes, I think so. We want to maintain their fitness, but rotation could do them good with the Premier League and the Champions League.
"They are accepting my decisions without problems, and this is important. To have them available at the moment, it's important at this time of year.
"We have fantastic strikers. I have to make a decision about the games, to put them in or not.
"Didier played for two hours against Everton. Torres and Anelka were fresh and, together, they played well."
Although Torres was unable to convert three good chances, Ancelotti insisted the Spain striker's movement and commitment more than made up for his wayward finishing.
"His performance was really good," Ancelotti said. "There's a little bit of disappointment because he could have scored. But it doesn't matter. His movement with Anelka was so good.
"Anelka was able to score and Torres had a lot of opportunities that he created with his movement. He will score in the next game."
Chelsea's display was a vast improvement on Saturday's shock FA Cup defeat to Everton but Copenhagen also looked every inch a side who had not played a competitive game for two-and-a-half months.
Anelka opened the scoring in the 17th minute when he pounced on a poor pass by former Chelsea winger Jesper Gronkjaer and drove home a fierce strike from the edge of the area.
The former Arsenal forward struck again in the 54th minute as he drilled Frank Lampard's pass into the bottom corner.
Ancelotti had insisted this week that Chelsea's season wasn't dead despite their poor form and this result underlined his belief.
"We played with intelligence, showed good football, good efficiency, playing quick attacking play," Ancelotti said. "We had a lot of opportunities to score.
"We are still alive. I had an idea before the game, and I maintain the same idea now.
"We are not dead. It's just one game, though. I want to see my team play again, again, again."
Copenhagen boss Stale Solbakken added: "We lost to a better team. They were stronger than us and we made too many technical errors.
"To be honest, some of my best players maybe didn't have their best days. Chelsea looked sharper and were quicker.
"Some of my players played very well and should have a positive feeling in a few days, but others didn't live up to what they achieved before."