CAPE TOWN, July 2, 2010 (AFP) - Argentine goalkeeper Sergio Romero has been doing his homework on German penalty-takers ahead of their World Cup quarter-final on Saturday, but he said intuition was the real key.
The grudge match comes four years after Germany beat Argentina 4-2 on penalties at the same stage in 2006.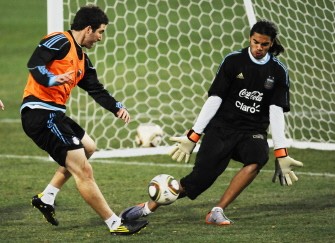 Argentina's forward Gonzalo Higuain (L) shoots to the goal in front of goalkeeper Sergio Romero during a training session at the University's High Performance Centre in Pretoria on June 30, 2010. AFP
An enduring image of that game was Jens Lehmann carefully reading his notes on Argentina's penalty-takers at the end of extra-time.
It paid off with the German keeper saving from Roberto Ayala and Esteban Cambiasso to seal his team's passage to the semi-finals.
Romero was still at school back then, but remembers watching the game and was astounded when Lehmann began studying a piece of paper ahead of the shootout.
He said he had been doing his own homework, but was unlikely to write it down.
"Yes, we've watched a lot of videos and analysed them," he told Fifa.com of the current German team.
"What happened in 2006 was incredible," he added. "Nobody thought that after watching the videos he would write it all down on a piece of paper to remember it.
"Anyway, I think penalties are much more to do with intuition than anything else.
"You can watch 800 penalties but if you dive where you think you should, according to the video, and the ball goes in the other corner, it's no use.
"The most important thing is the feeling that you get as a goalkeeper to guess one way or the other, and you just have to risk it and follow your instincts."
Argentina go into Saturday's game with four wins out of four and Romero is confident that if they continue playing as they have, they can beat Germany.
"If we carry on playing the way we have been playing up to now, we've got every chance of going further," he said.
"As far as my own form is concerned, I know that the keeper is a key man in any team and I can only hope to keep up my level of performance.
"It's important to give the rest of the team confidence so that they can put their game together without worrying and do the business at the other end of the pitch."
Argentina and Germany have a long rivalry, with the Argentines - inspired by the present coach Diego Maradona but who was then their star player - beating Germany in the 1986 final before losing, with a by now fading Maradona, to them in the 1990 decider.