BIRMINGHAM, United Kingdom, March 20, 2011 (AFP) - Arsene Wenger insists Arsenal are still in the hunt for the Premier League title despite throwing away more precious points in their pursuit of Manchester United in a 2-2 draw with West Bromwich Albion.
Arsenal's failure to defeat relegation-threatened Albion leaves them with a five-point gap to make up on United and although they have a game in hand, that is against their north London rivals Tottenham, who would love nothing better than to dent the Gunners' bid to end their six-year wait for a trophy.
Questions over the mental strength of Wenger's side have been raised over the last two weeks as a possible quadruple has crumbled to leave Arsenal fighting on just one front.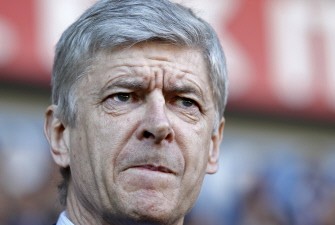 Arsenal's manager Arsene Wenger looks on before the match between West Bromwich Albion and Arsenal. AFP
But, after fighting back from 2-0 down with 20 minutes remaining on Saturday, Wenger believes his side remain as resilient and determined as ever to hunt down United and win their first league title since 2004.
"I felt no matter what the result was in this game it would not be over for our team. It was important not to lose," Wenger said.
"I did wonder how we would recover if we had lost the game, but we managed to make sure that we did not do that.
"It will be interesting until the end. We are ready to focus on the rest of the games and we are ready for a fight.
"It was down to character and resilience from the players. We have shown plenty of that at the end of the game.
"Mathematically we have lost two points, but psychologically we have won a point and you cannot be too unhappy to win a point when you are 2-0 down with 70 minutes played."
Wenger has every right to be disappointed with the latest high profile error of goalkeeper Manuel Almunia, who raced from his area and became entangled with Sebastien Squillaci, which gifted Albion their second goal.
But, despite the signing of 41-year-old Jens Lehmann on a short term contract until the end of the season, he may keep faith with Almunia.
"I don't want to give personal criticism to anyone," he said.
"There were a number of people involved in the second goal and they know what it is all about."
Albion boss Roy Hodgson, who was disappointed to have surrendered a two-goal lead, admits he is unsure which of his players will be able to report for international duty in the next few days.
Northern Ireland's Chris Brunt was suffering with a fever and virus, but climbed off his sickbed to play, while Scotland's James Morrison suffered a four-inch gash in his head and Austrian Paul Scharner was concussed in the first half and did not re-appear.
"We were hampered by Scharner getting concussed in the first half and Morrison suffered a huge gash in his head," Hodgson said.
"I am not sure how many stitches he had. Brunt was in his sickbed the night before the game and I could not see how he was going to play. I was astounded when the medical staff declared him fit.
"I hope the Austrian FA are sensible and do not want him to travel. You should not take any chances with a head injury.
"I would hope the Austrian FA will be concerned with him recovering rather than asking him to travel.
"A bang on the head is not to be toyed with and I would hope that he keeps a very low profile over the next couple of days and stays close to the doctor."