The Asean Football Federation (AFF) has finalized the ASEAN Cup schedule for the Southeast Asian countries from January 12 to February 3, 2007. The timetable is not favorable for Viet Nam.
From 17 to 25 November 2006, the qualifying round for the cup will take place in the Philippines with the participation of Brunei, Cambodia, East Timor, Laos and the Philippines. The best two of them will go to the final round to compete with the six other teams namely Indonesia, Malaysia, Myanmar, Singapore, Thailand and Viet Nam.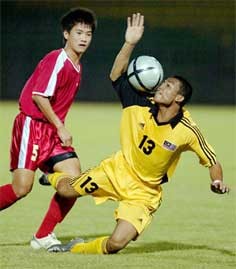 Viet Nam striker Le Cong Vinh (L) battles for the ball with a Malaysian player in a Southeast Asian Games match
The eight teams will be divided into two groups to play in two countries – which AFF has not selected among Indonesia, Singapore and Thailand – from 12 to 17 January 2007. The top two teams of each group will play the semifinals on the home-and-away basis. The final will also have two legs, home and away. The semifinals and final are set for January 23 until February 3, 2007.
The schedule is disadvantageous for Viet Nam. It is likely that the Vietnamese Premier League 2007 would not kick off until late February that year and would be paused late May or early June so that the national squad could gear up for the Asian Cup 2007 in July. Then, V-League would continue immediately so that it might finish in September, because U-23 Viet Nam needs time to prepare for the Southeast Asian Games in late 2007.
Given the situation, the Viet Nam Football Federation plans to organize the 24-round Vietnamese Premier League just in four months. If this is the case, a V-League club will play two matches a week, maybe on Wednesdays and Sundays.