Host Viet Nam and the Olympic Council of Asia (OCA) reached an agreement on 22 events for the upcoming ASEAN Indoor Games (AIG) 2009, said Hoang Vinh Giang Vice President, Secretary General of the Vietnam Olympic Committee (VOC).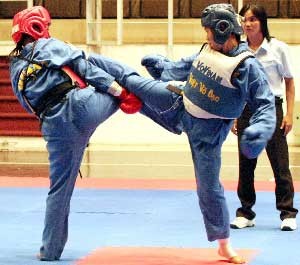 Vovinam is listed as a official sporting event in the ASEAN Indoor Games 2009
This agreement was released after a special meeting between the OCA and the VOC yesterday.  
The 22 events include 20 traditional ones, Athletics, Swimming, Fin-swimming, Dance-sport, Pentanque, Archery, Self-defense Sports (boxing and wushu), Sepak Takraw, Aerobic Gymnastics, Pencak Silat, Chess (International chess and Chinese chess), Futsal, Muay Thai (Thai Boxing), Billiards and Snooker, Dragon and Lion Dancing, Hiking, Kurash (Turkic Wrestling), Bowling, Kick Boxing and Jujitsu. The two new ones added are Vovinam and Vietnamese Game Shuttlecock.  
The medals available for the AIG 2009 are numbered at 250. The host is expected to pocket 20 gold medals thanks to their strengths in Pencak Silat, Vietnamese Shuttlecock and Vovinam.  
Most of the games will be held in Ha Noi, Ho Chi Minh City, Quang Ninh Province, Hai Phong city, Hai Duong Province, Bac Ninh Province and Dong Nai Province. The schedule plans for the games to be held over eight to ten days in mid-October 2009.  
The VOC plans further meetings with the OCA aiming at fixing the schedule and discussing sponsorship requirements of US$4 million, a VOC spokesperson said. Either the OCA would provide the US$4 million sponsorship for Viet Nam or Viet Nam would raise it itself.  
The host nation, Viet Nam, affirmed the technical planning of sporting stadiums is complete and their construction and fit-outs are expected to be finished on time.